A few years back I was taking a train across the Chinese countryside. It was a five hour journey to Beijing. In between reading my book and looking at seemingly endless rice fields and small towns, I tried to sleep. I caught snatches but I was always woken up by the generally discomforting experience of sleeping without a pillow.
Now when I'm on vacation I always bring a handy travel pillow. I've gone through a few different kinds including overly expensive pillows from the airport and cheap knockoffs from eBay. Right now I think I've found the travel pillow I plan to bring on all future trips – Naipo's Travel Pillow.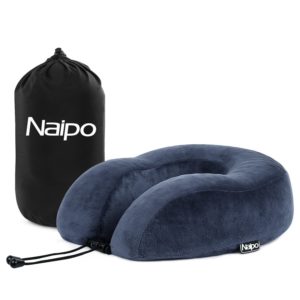 First Impressions
First thing that stood out was the size – or rather the lack of size – when folded up. A quick look at photos of the travel pillow will show that it is generously sized. However, when I looked at it in its portable storage bag, it was surprisingly small. Taking it out of the bag had me wondering how I could possibly fit it back inside – it was that compact! The actual pillow itself was soft and offered a good blend of firmness and softness. Just like Goldilocks, I found Naipo's Travel Pillow not too hard and not too soft.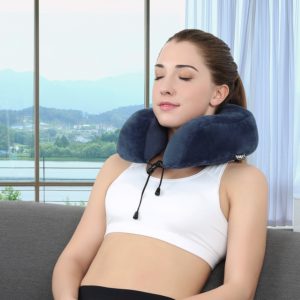 Design & Function
A travel pillow works by providing support for the neck so you can sleep on planes, trains, automobiles, or out under the stars without hurting your neck. Travel pillows typically have two distinct types of audiences:
Those who are likely to stay in a hotel and only need a pillow for sleeping when on the move between destinations.
Backpacker types who also need a pillow to sleep on yet are limited by the amount of space they have.
I am happy to report that Naipo's Travel Pillow caters to both. First it helps with falling asleep, and second it is portable so it can be taken with you on your travels.
Initially I was a little curious about what made the pillow feel so good to squeeze and even more comfortable on my neck. Turns out its memory foam with cooling gel technology. I think that's particularly beneficial because some people get quite hot when sleeping and it can disturb their sleep if the pillow warms up too much. Speaking of sleep, I had a delightful one when I used the pillow. I won't pretend that it's better than sleeping in a bed because it's not. However, for what it does, it does it well. Really well. Another thing I like is the adjustable straps. Not only can they be tightened so the pillow always stays close around your neck, but they can be clipped together to stop the pillow from falling off in case you move. As the pillow has a contoured design, it provides the support the neck, head, and even shoulders need for sleep. Couple that with the firmness of the memory foam, and I managed to actually stay asleep for once when travelling.

Pros
Compact pillow that's perfect for sleeping when travelling
Memory foam provides the right level of firmness
Cooling gel means you won't get too hot using it
Travel bag makes it easier to take with you
Cons
Some people reported that it pushes the head forward
You may find it hard to put back into its travel bag
Closing remarks
As someone that likes to travel and who has used a variety of travel pillows, I was very happy with this pillow as it feels good, is comfortable to sleep on, and is ideal for travel. I have another trip planned in the next few months so I'll be sure to bring this one with me.
P.S. If you don't already own this product and you're interested in trying it out, you can pick it up on Amazon.com.