Sometimes my back is just killing me. I don't know why. Is it because I slept in a funny position or because I'm starting to get old? I can't be sure. It's during those moments that I desperately need a massage. But if you're like me and find that between family, work, friends, and hobbies that there isn't always time to get a massage when you really need it, then you're probably in need of an alternative. I was given just the right thing to test out – the Naipo Shiatsu Back Massager.
First Impressions
Taking it out of it of the large-sized box, I was surprised to find that it wasn't as big as I thought. It's still a good length to accommodate most people, but what surprised me was that it is surprisingly thin and light. I was also impressed by the cool black and space grey coloring of the massager. Seeing the colors and the simple, clear design made think that's its ideal in an office setting or in a car.
I skipped reading the included instruction manual because I like to figure things out on my own. I did have a look later and it provided enough information to get you started. However, I think that it might not be necessary as all the functions area clearly marked on the attached remote control in relatively large font so those hard-of-seeing can make out what each function does. I first tried Demo Mode which allowed me to test all the features of the massager and provided a great introduction.
I first used it by placing it on a chair with an inclined back. While it did work, it didn't operate perfectly. I then changed to a chair with a straight back. That was when the magic happened and I could really enjoy the full benefits.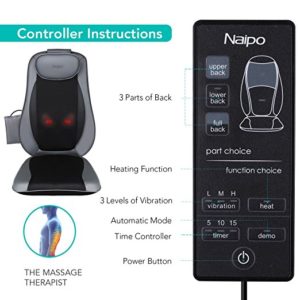 Design and Function
The Naipo Shiatsu Back Massager offers four 3D massage nodes to massage your entire back. What's particular good about this full back massage is that you can also select upper or lower back massage to target a specific area – ideal if one part of your back is tenser than the other.
Aside from the kneading massage nodes, the seat of the massager includes a vibration function that can be set to low, medium, and high. I found medium and high to be the most pleasurable modes and that low did not provide nearly enough stimulation. However, those that are particular sensitive are sure to find that low vibration offers a calming hum that proves to be relaxing.
To soothe tired muscles and increase blood circulation, the massage chair includes a heat function that raises the temperature to 113 °F which is hot enough to feel pleasant but not enough to feel overbearing. Likewise the timer mode is there so you don't massage yourself too much. I personally liked setting the timer on 15 minutes but others may want to select 5 or 10 minutes depending on how they enjoy the massager.

Pros
Easy to use remote with a handy storage pocket
Feels just like a Shiatsu massage with plenty of firmness
Modern and clean design
For use at home, the office, in the car, or wherever you can sit
Cons
Power cord may not be long enough for some people
Some very short or very tall people may find that the massager is not suitable for their body
Closing Remark
Overall I was happy with Naipo's Shiatsu Back Massager due to the ease of use, the effectiveness of the massage, and the design which promotes versatile use. While I didn't get to try it in my car, I look forward to the next road trip so I can drive in comfort.
P.S. If you don't already own this product and you're interested in trying it out, you can pick it up on Amazon.com.