You can get your Shiatsu Pillow Massager right here on Amazon!
Recently, I spent a lot of time working on my computer. As you might know, this can create tension and pressure on your body. More specifically, on your neck. Which brought me to try out the Naipo Shiatsu Pillow Massager with Heat.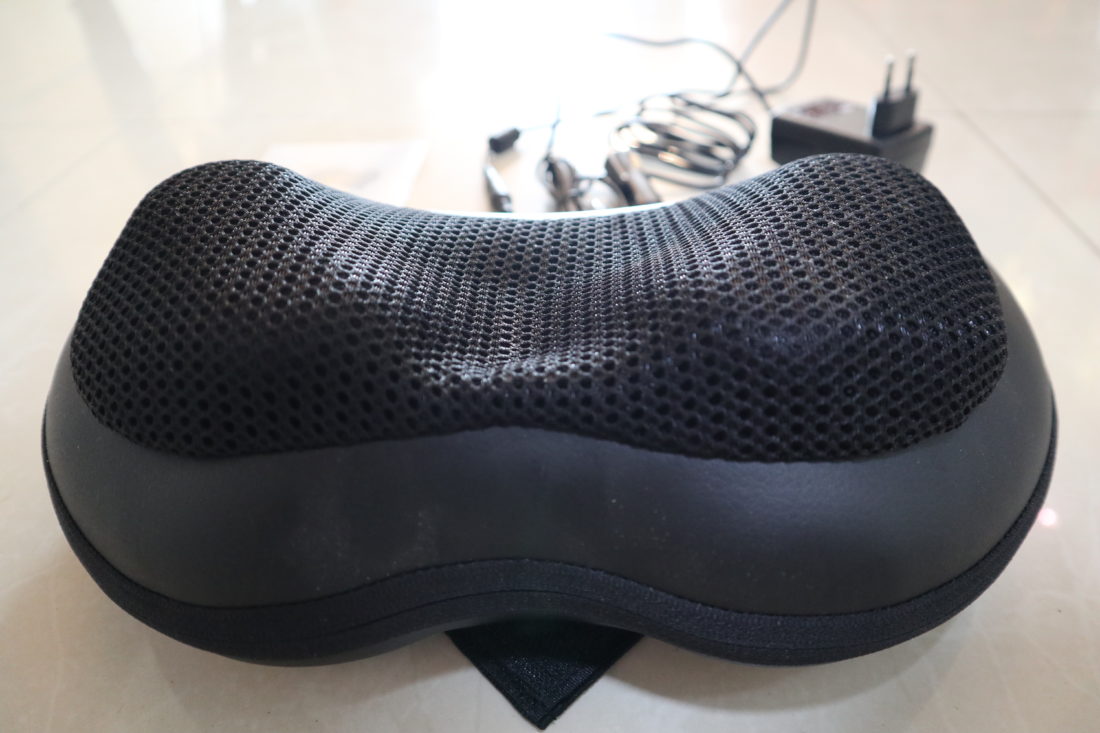 First Impressions
I had ordered the pillow massager at the same time as Naipo's Foot Massager. When they both came, the company had done a very good job at packaging the whole thing safely and well to avoid any issues. And since the shipping companies can sometimes be quite rough with the packaging, I was glad to see that everything was safe inside.

What's in the box?
The box is rather small and when I got it through the mail, it was in good condition. The Neck Massager inside was very well protected. As I opened the box, the Pillow Massager was there, looking at me and I was very excited to give it a try as soon as possible. I could feel my neck being sore from spending too much time on my computer. As you open the box, you get all the classics: The Pillow Neck Massager, the power supply, the trusty manual and oh surprise, a car adapter to plug it in the car!!! I didn't know it comes with it and as such, it became a very pleasant surprise. Why is that adapter nice to have? Well, when you are stuck in traffic and your neck is killing you, you get this amazing neck massage to relax you and get through the traffic like a breeze.

Product Experience
Without waiting any longer, I went ahead, plugged it in and decided to lay down and give it a start. This is not a complicated massager. With one button to make it work, no extra remote or any complication, it's very easy to start and just let yourself go. You can adjust yourself on it to find the sweet spot and although when you first use it, the nodes seem pretty hard, it creates a very real shiatsu experience. And as soon as you find the sweet spot for you, then it's just an amazing experience as you feel the tension fade. And that was just the neck! But this pillow can do a whole lot more.
You can use the pillow for the upper back, which I tried. You have an elastic strap behind it to allows you to put it on a chair and settle on it. Again, you can adjust it to find the best spot for you and the nodes will do the work. They feel like powerful hands massaging you, putting pressure where it's needed. It's very convenient to use also for the thighs, haven't tried that one yet because I rarely need it, or the calves, which I did try. Both the back massage and the calf massage felt just right. I especially enjoyed the calf massage after a run.
It's really hard for me to say anything bad about it as it does all it needs you to do. You do need to move a little to find the right spot, but once you do, it's just a great feeling.

Design
The design is beautiful and simple. Shaped like a butterfly and with the nodes protruding through the mesh, it looks very cool and blends it quite well if you just leave it in the living room like I do. The leather part makes it quite stylish too. And with the button to turn it on/off being quite clear without it being out of place, it's a nice addition. Press it once to get it started and feel the warmth of it's function, press it again to stop the heating function and just get the massage. Personally, I preferred the heating function on as it allows the muscles to get a better experience.
Pros
Easy and hassle free to use
Very good pressure
Beautiful design and stylish
Multiple uses, not limited to neck
Great price
Cons
Finding the right massaging spot can be a bit of a bother.
Conclusion
As mentioned earlier, I really have nothing negative to say about this product. The fact it can be used for multiple places comes in super handy and allows you to get different parts of your body relaxed. The Shiatsu Pillow really delivers on it's promise of a deep and powerful massage.
Want yours? You can get it right here on Amazon!