Handheld massagers are the most familiar to me when it comes to personal massage equipment. Several years ago, my mom got one for mother's day and I gave it a try. I remember not being very impressed with it because it was sort of heavy and the massage nodes were hard and uncomfortable. As you can imagine, my expectations for this massager weren't very high. Nonetheless, I was still interested in trying Naipo's Percussion Massager.
First impressions
The box was just as sturdy and attractive as the others from Naipo that I've seen, which is great if you like saving your product boxes for storage or to recycle for other uses. After opening the box, I had everything I needed to get started – the manual, massager with attached power cord, and 3 interchangeable massage nodes. I quickly skimmed the manual to make sure I wasn't missing anything, but it's pretty much just a "plug and play" kind of device, which I can appreciate. No mess and no fuss. The simpler, the better, right?

Design
This massager has a great look and feel to it. Its design is modern with smooth, sleek curves and an ergonomic grip. I don't remember everything about my mom's massager from a while back, but I do remember it was awkward to hold. It was a little heavy and bulky. However, this one from Naipo is less than 3 pounds and easy to hold. Much lighter than I remember my mom's being.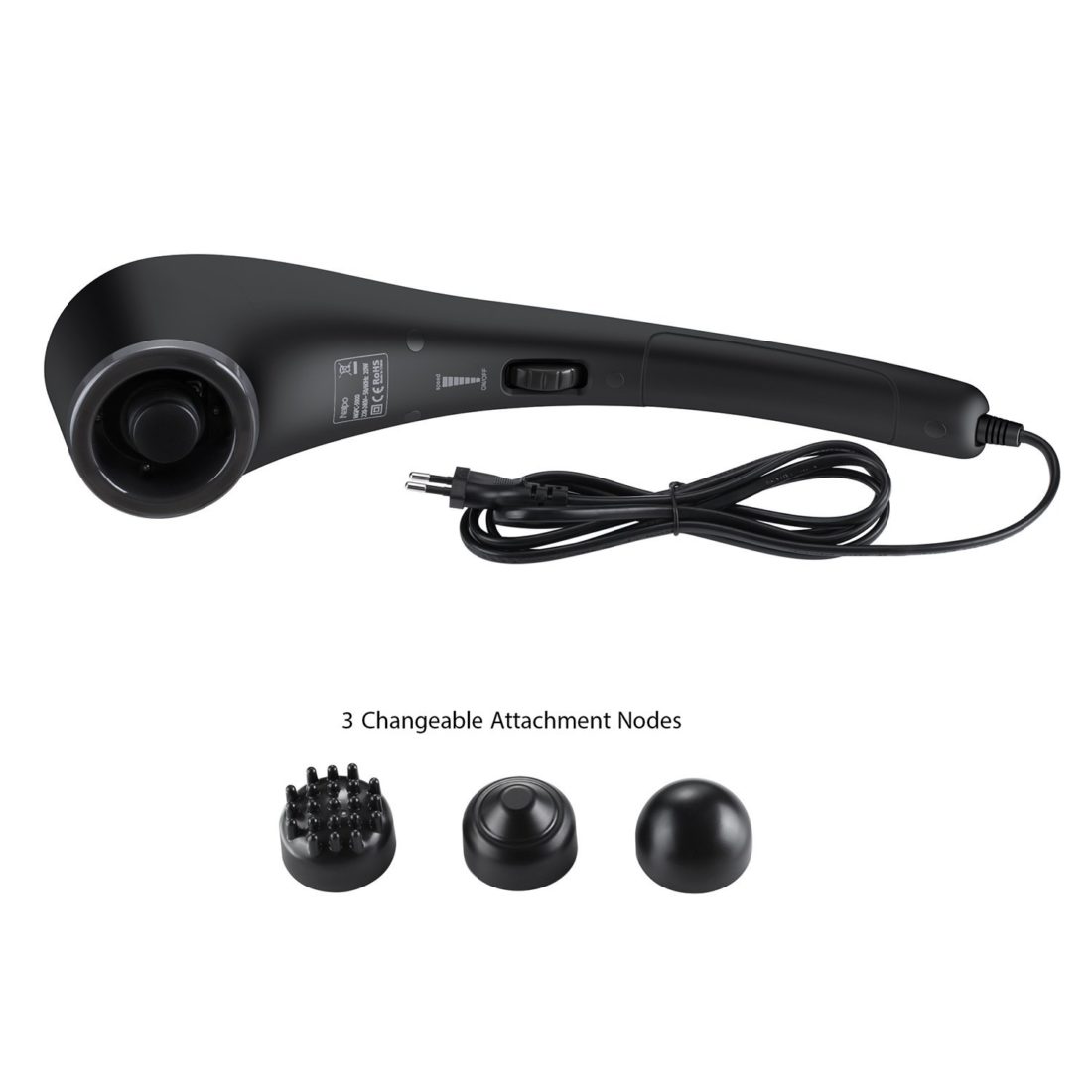 The massager's shape and functionality make it simple and minimalistic. Its body is uninterrupted by excessive buttons or controls. In fact, there are only two controls; an intensity dial on the underside near where your thumb would naturally grip – a perfect location to adjust the speed while using the device – and a push-button on the top of the massager to activate its heat function.
Features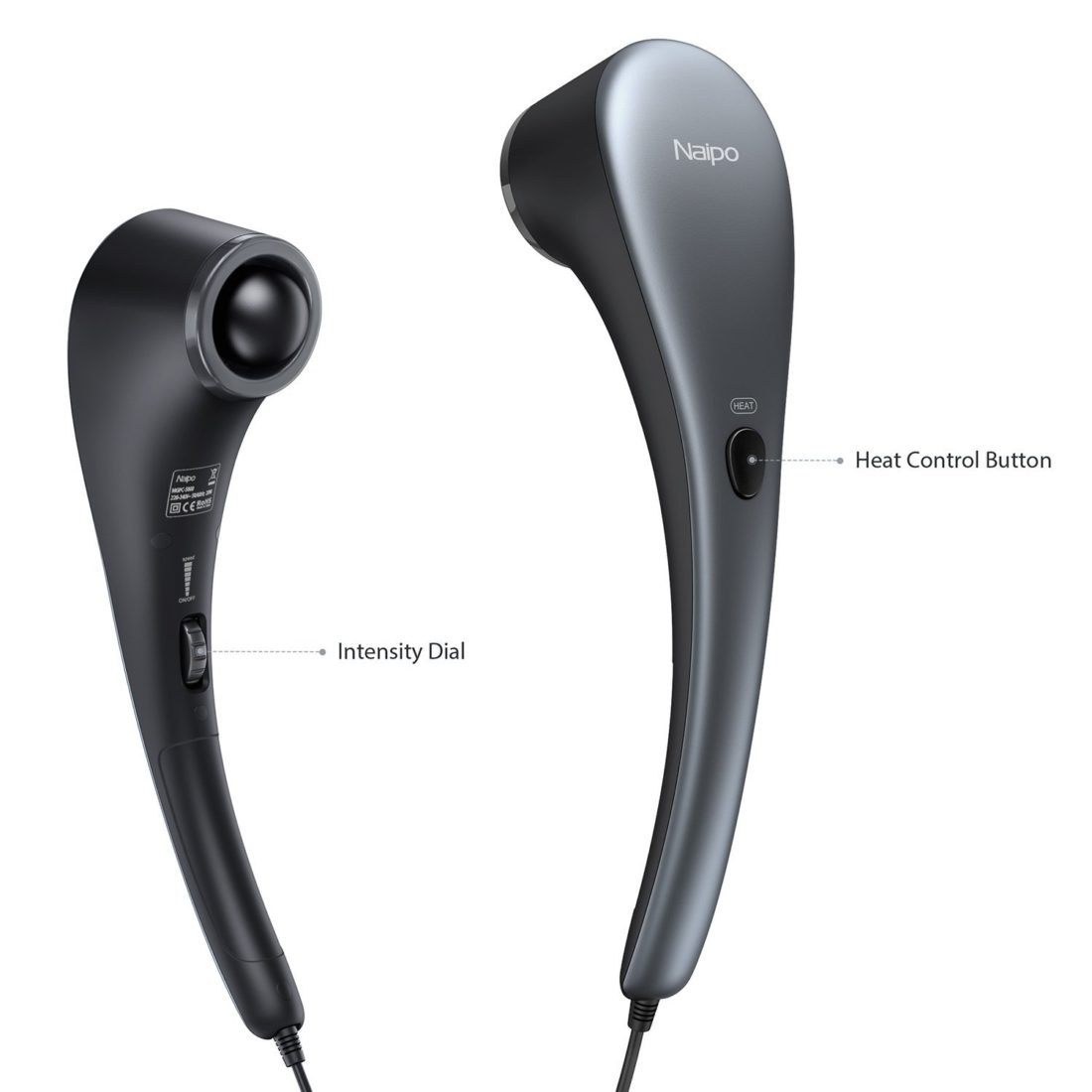 The two controls on the device are very easy to use. The intensity dial not only controls the speed and strength of the vibrations but also turns the device on and off. If you forget to turn it off for whatever reason, it will automatically turn off after 20 minutes. I really like the fact that the speed settings are controlled with a dial, it allows you to customize your massage a lot more than if it had specific speed settings.
The heat function is a great and necessary feature to have. I don't think I use the massager without the heat very often, but I like having the option. I used the massager on sore muscles after working out. The heat made such a difference in how the massage felt when I was using it and I think it also helped my muscles relax after using the massager.
This device comes with 3 interchangeable massage nodes, which I think is really great to have because I don't always use the massager for the same reasons every time. I found the basic round massage node to be great for moderate tension and muscle stiffness. The ridged one was the most interesting. It took a few tries to figure out how it felt best and I think it's best on a low-speed setting. It did a good job of stimulating my muscles and even gave me the goose bumps. I think the ridged massage node is also great for blood circulation and good to stimulate a wider area. However, my favorite one is the node with a small flat area in the middle. This one is great for targeting specific spots and delivering a much more intense massage.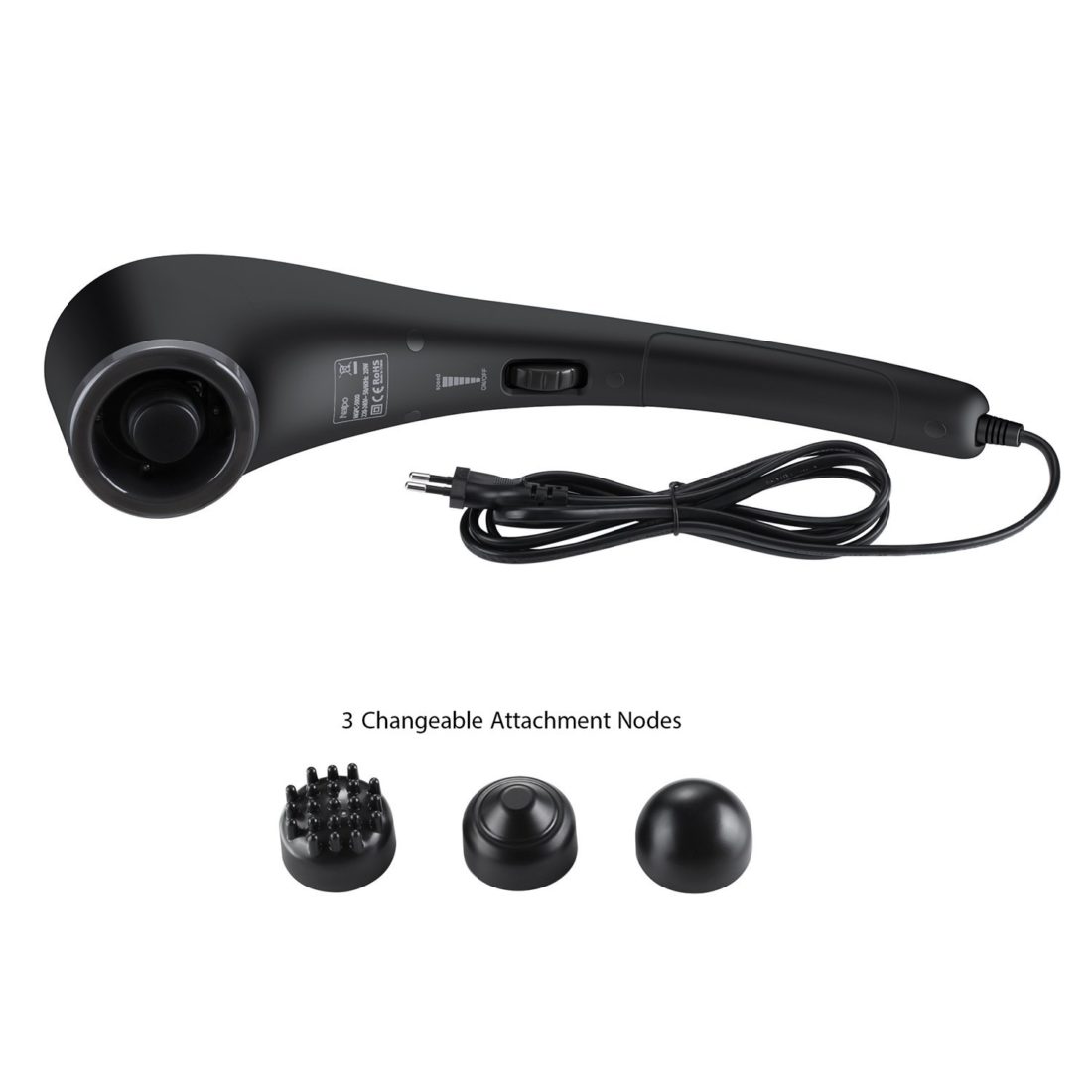 Pros
Sleek design
3 interchangeable massage nodes
Light-weight (>3lbs)
Comfortable to hold
Easy to operate
Can easily change speed while in-use
Intensity-dial allows better customization
Sturdy buttons, equipment, and product
Great customer service
2-year product warranty
Automatic 20-minute turn-off feature
Cons
Need to physically change the nodes
You need to hold the massager (not hands-free)
Doesn't hold a charge, needs to be plugged in
Closing remarks
This device was much better than I remember my mom's being when I tried an electronic massager for the first time. It's possible that I wasn't sure how to operate it at the time, but this one by Naipo was definitely easier to use than before and I loved the node with the flat end.
Rating
I would give this massager 4/5 stars! Want to see for yourself?