First Impression
"Wow, look at this – it's a gnarly powerhouse!"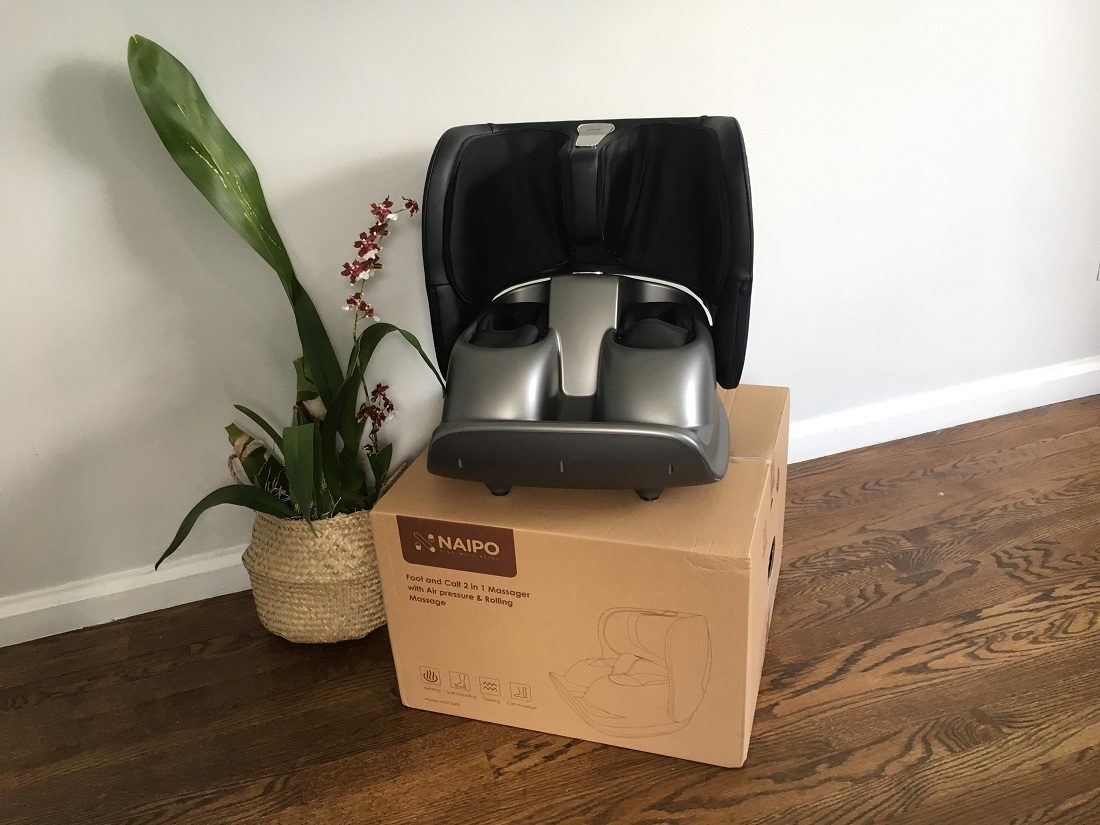 My eyes grew as I opened the box and saw the massager and anticipation kicked in. This is definitely not your average massager, as you can tell from the photos.
What's in the box?
Once you open the box, you find a very well packed NAIPO foot and calf massager, adapter and manual waiting to be discovered. So simple to use! Plug the adapter on the back of the massager & you are good to go!
Product Experience
A little about us… I am a mom to a very active toddler and we have two dogs. Making sure I check off my daily to-do's from taking care of my home, running errands, giving my littles ample play time and exercise to adding a business (a.k.a one man band) in all the madness; I sure spend a lot of time on my feet! The same way, my partner works on his feet on average 12 hours (18 hours at times, crazy) a day in motion picture production – so he knows all about tiredness and muscle/joint pain.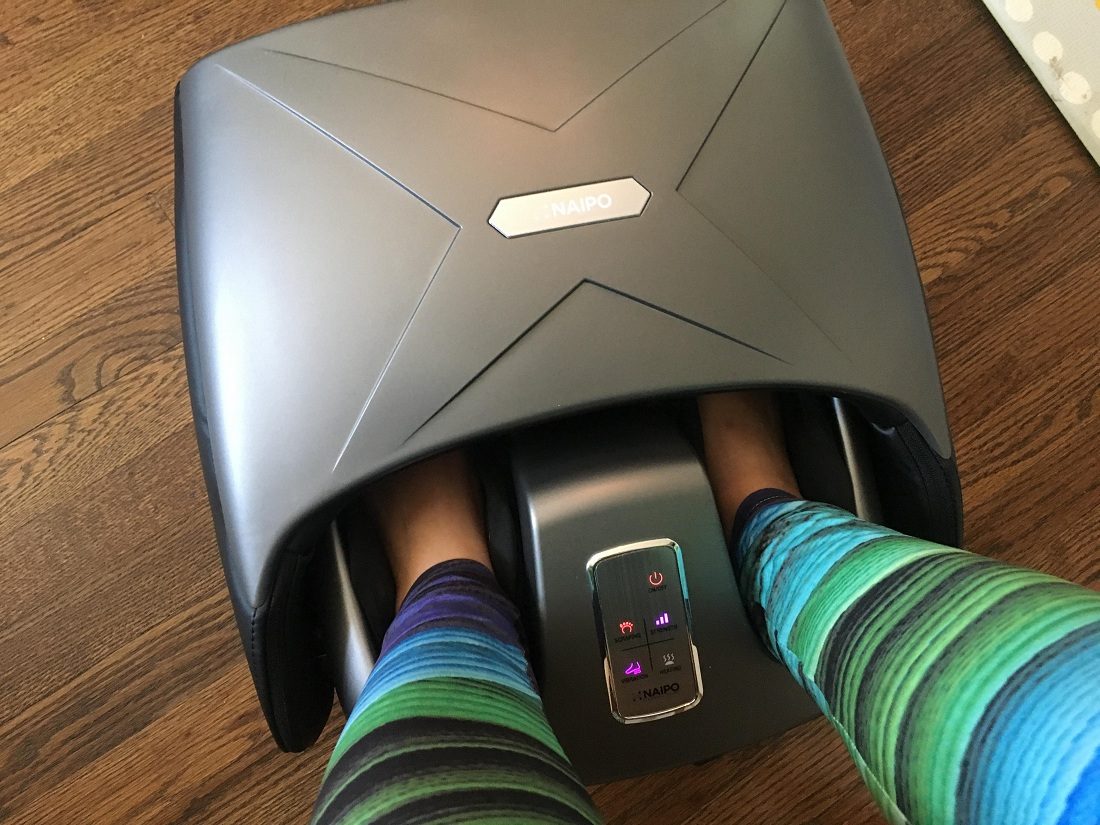 Both my partner and I throughly enjoyed being able to customize the functions according to our needs. I preferred a low strength, Shiatsu type rolling massage whereas he was happiest with vibration & heat on with his medium strength massage.
We agree on receiving massages making our bodies and minds more relaxed which definitely reflect on our family positively.
Design
Sleek, contemporary design with a sturdy build. Dark gray & black color scheme that has a unisex ambiance. It can be enjoyed folded for solely foot massage or unfolded to add in calf massage.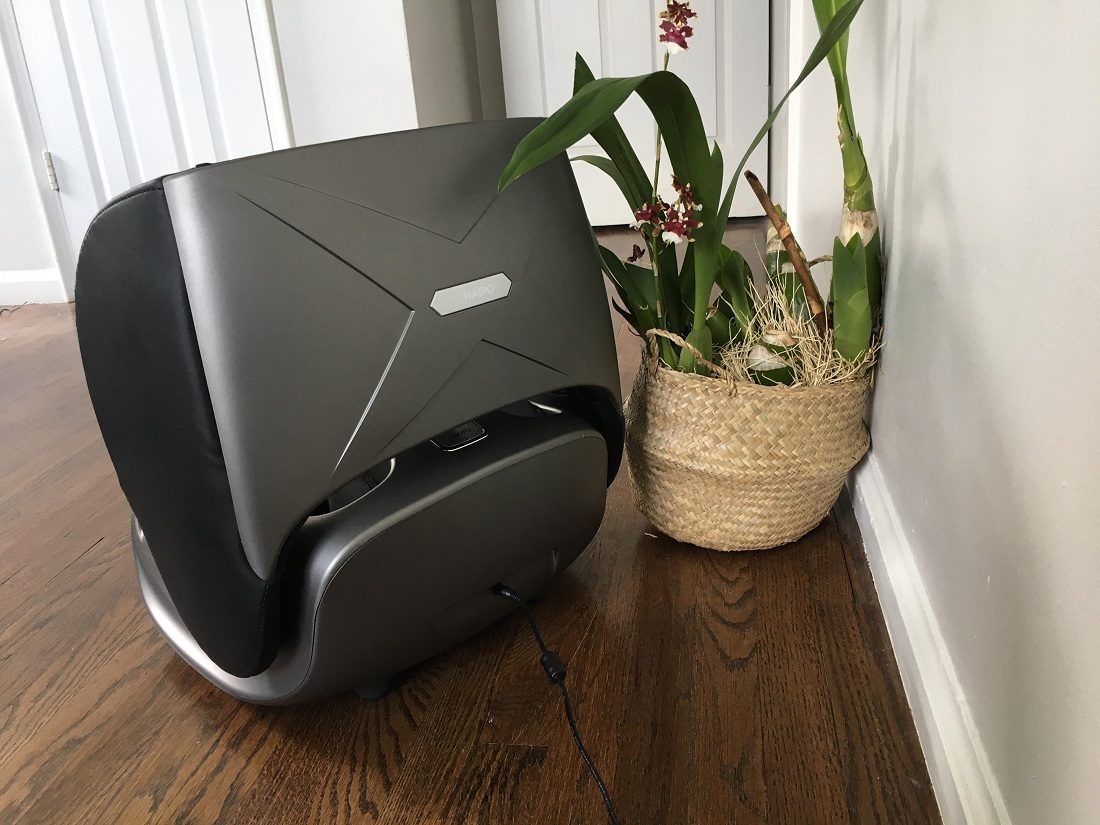 Pros
* Foldable design for easy storage
* Different massage functions you can customize to your needs
* Air compression to increase circulation and relieve sore muscles
* Can be utilized for many different needs
* Removable, washable feet covers that promote hygienic use
Cons
* It only fits up to size 11 feet in men's.
* Honestly I cannot think of another, but considering the price; perhaps this could be a purchase that some of us have to save up for. However, with Naipo's 30 day return window & 24 month warranty coverage, you can move forward with confidence. I believe the comfort and relaxation this massager brings is well worth the investment and it will pay itself off in no time, considering the crazy prices of getting massages elsewhere!
Conclusion
You know, I strongly believe that purchasing massagers is one of the great (if not the best) things you can do towards do-it-yourself wellness right at your home's comfort! Relax with NAIPO where you need it, when you need it. It's amazing what self-care can do for our wellbeing.
Give yourself and loved ones the top notch care you deserve, purchase it here today.