Who's else is tired of achy, sore muscles? I'm looking forward to checking out another massager from Naipo. This time, it's the Naipo handheld dual-node percussion massager with replaceable attachments. As someone who tends to tense up a lot because of all the time I spend on the computer, it's always a welcome sight to see another massager. What will this handheld one from Naipo offer? Let's find out.
Initial Impressions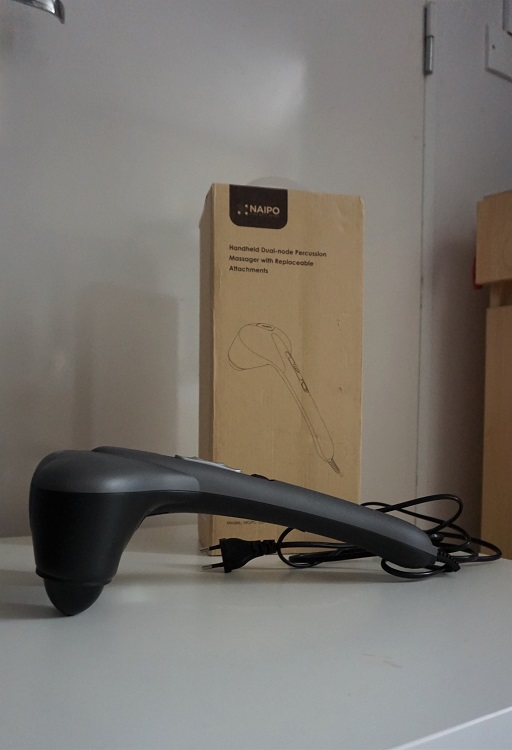 My first challenge was getting it out of the packaging itself. Naipo certainly makes sure that their products don't get damaged during shipping, which meant that the handheld percussion massager arrived on my doorstep covered in a layer of tape and black plastic bags. After digging through it, I was pleased to see that the product packing from Naipo is simple — just a few tabs and cardboard sections to keep everything in place.
What's in the Box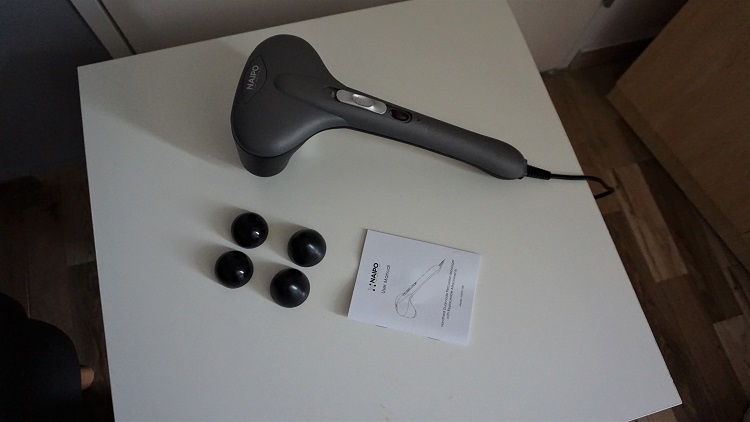 What you get is the handheld massager itself, some replaceable node caps and a user's manual. That's it! So it's a true plug and play experience. I did notice that if you want to change the massage node caps right away, the ones that come installed on the massager are screwed on a bit tight. After they become loose, it's easy to change out the default nodes with the ones of your choice. According to Naipo, these are for whether you want a gentle massage, warm massage, or a shiatsu massage.
Design
The design itself is pretty simple. The round, oval end that houses the two nodes takes up the majority of the design, and it is also the bulk of the massager's weight. There is a long, no-slip handle which you can hold by the end while moving the massager up and down your back, using gravity to your advantage to compensate for the massager's weight. I have to admit, the massager was heavier than I expected for a handheld device, but I suppose this is due to the fact that it needs a little more power and bulk to deliver an accurate percussion massage.
A percussion massage is just another way to describe the rapid tapping or "drumming" (hence the name "percussion") that a massage therapist might do at the end of a session. It is typically used to strengthen deep tissue and also stimulate blood circulation. By improving blood circulation, your muscles are likely to be less tense and sore, especially after a long workout. Because it is more aggressive and fast-paced, it is better to avoid bony areas or sensitive muscle tissue. The Naipo handheld percussion massager is designed with this in mind, as the two massage nodes are placed far apart from each other, and the label underneath specifically says that it is meant for broad areas of the body, only.
Function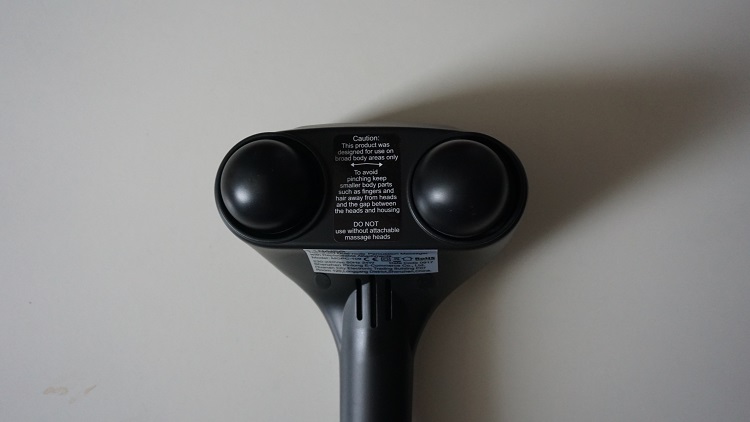 The handheld percussion massager couldn't be easier to use. After plugging it in, just slide the large, tactile switch up for the two different speeds: regular and fast. There's also a button for heat, and the label by the massage nodes specifies you should wait around 5 minutes before it fully heats up. I did wait, however, the heat was definitely more on the mild side.
I found that the best use was lying on my stomach while holding it against my lower and upper back. I ended up liking the more pointed massage node caps because I felt the massage could penetrate the muscles a lot better, especially on the faster speed setting.
Pros:
Easy to use
Can massage multiple areas
Multiple speeds with heat
Dual-massage nodes
Anti-slip handle
Cons:
Heavier than expected
Cordless would be nice
Conclusion
The Naipo handheld dual-mode percussion massager is simple to use right out of the box. It has two speeds and three different massage node caps to try depending on the desired intensity of massage. The percussion massage it produced did feel nice, but it would be great if the massager was a little bit lighter without sacrificing the power it needs. It's great that it's got a heating function, but it may not be as strong as some people would like. Overall, if you just want a simple, quick massage after a long day, this is a cost-effective and easy solution.
Want one for yourself? Check it out on Amazon.