It doesn't matter what kind of day you had—busy, relaxed, frustrating, exhilarating—this massage chair is the perfect way to cap your night.
Several hours behind a desk can be a drag on my back and shoulders. I get up to walk around and stretch occasionally to keep my blood going. To counter the stiffness in my back, though? It's not enough.
Even if you live in China, or any place where massages come cheap and good enough to make you drool, nothing beats having an at-home experience. That's why I love this Shiatsu Back Massager.
Relieves stress? Check. Decreases tension? Check. Comes with a heating option? Check. Massages in multiple directions? Check. Best wine buddy to date? CHECK!
In general, this back massager is soft, cushiony, yet durable enough to withstand a couple hundred uses. It comes with a remote control, putting speed, heat, vibration, and intensity settings in the palm of your hand. Before I even tried the massager, I was sold on it.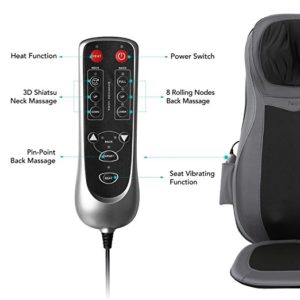 Excellent Performance
The back massager is built to provide a consistent performance of whatever intensity you prefer. I like my massages to go deep in between my muscles. When I set the massager to a high intensity setting for the first time, I wasn't expecting the pressure to be so strong. After a few seconds, I found myself slipping further into the chair. Never did I think I would take to a massage product like this so quickly.
But I did. And the love affair grew.
Vibration function? Yes, please!
The seat cushion comes with a vibration function. Also available in three different intensities, the vibrations add to the total relaxation effect the massager provides.  In similar products, the cushion is too thin or too hard. The vibration does not mitigate the harsh feeling of the seat, since there is no such feeling. It only enhances the comfort.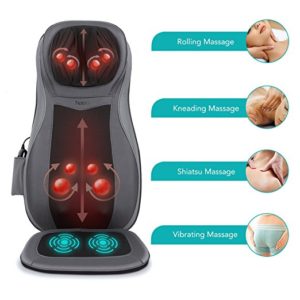 Protect Your Neck
Last, but not least, the neck cushion. I've had trouble with neck cushions and massagers from other companies. Sometimes the material felt too sticky. Other times, it wasn't breathable. Then there is the positioning, which ranges widely from product to product.
The neck cushion on this back massager is not only soft, but adjustable as well. Naipo did a great job adding this feature to the mix because it makes it easier for almost anyone to have a completely personalized massage experience.
Last Word
The convenience, variability, and performance of this back massager makes it a must buy. If you work long hours, accumulate tension quickly, or simply need a new habit to incorporate in your wellness routine, buy this massager on Amazon. You won't regret it.