First impressions

So, at first I was a bit skeptical about massaging as pain reduction. It seemed to me like something that treats the symptom but doesn't quite address the cause. But here we go, the Shiatsu Massage Pillow arrived in the mail and I took it up to my apartment and popped open the box.
The packaging was normal, just well-constructed cardboard. The pillow massager was safely packed, and I dug out the plug and decided to try out the massager while I sat on the couch and got some work done.
One of the first things I noticed was how comfortable it was. I am not a fan of real massages. Sometimes the masseur can use just a little bit too much pressure and turn an experience that is supposed to be pleasurable into something uncomfortable or even painful, but this massage pillow was ridiculously comfortable.
A part of how comfortable it is has to do with the pressure and the rhythm. I thought that our R&D team did a perfect job of finding the sweet spot between the rhythm and pressure while calibrating the pillow massager. If the rhythm was weird then i wouldn't be able to sit there and focus on my work for 20 minutes while the pillow massager did its job, but if the pressure wasn't high enough I would question whether or not it actually was doing its job.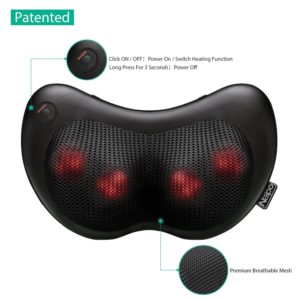 The kneading sensation was also quite relaxing. I do a lot of writing when I'm at home, and one of the biggest problems with sitting for long periods of time is that my back can sometimes start to complain. I sat down for 30 minutes on my couch as I normally do as I wrote and my back did not complain once. I was pretty surprised by this. I don't necessarily have poor back health, but I find sitting for long periods of time to be uncomfortable. This leads me to believe that this massager was preemptively targeting the areas that normally give me problems and kneading out any knots or tightness.
The fact that the kneaders are heated is a nice touch as well. Sometimes, in the mornings, my apartment can be a bit chilly and it's nice to sit, use the massager and get all warmed up right after a shower.
Design:
I thought the design of this product was awesome. I was really surprised by how easily it fit between my back and the back of my couch. I didn't feel like I was sitting awkwardly or uncomfortably, in fact, I'd say my back was more comfortable than it usually is when I sit on my couch normally. The device is also relatively small and you could conceivably throw it in your backpack or luggage and bring it with you on long car rides or train rides where you'd be sitting down for long periods of time. It's a relatively simple design. It's shaped like a pillow and has 4 "legs" that move in a circular pattern and knead your back or neck and relieve tension.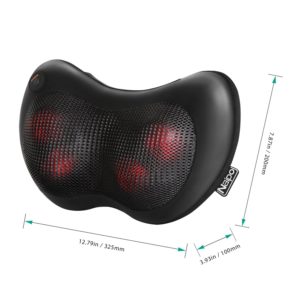 Function:
This Massage Pillow is very intuitive to use and comes with a long power adaptor so you can plug it in the most convenient outlet and let it do its work while you sit. It also features heating pads in each of the legs that you can turn on or off manually. The 4 rotating nodes will change direction every minute. The small size allows you to massage directly any spot you need: your neck and shoulders, but also your lower and upper back, lumbar area and even your limbs. Overall, I'd say this device functions very well and I don't have any complaints there.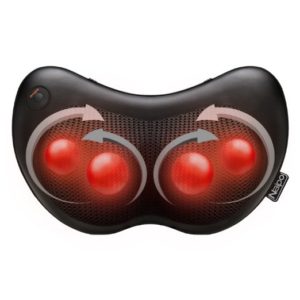 Pros:
Super comfortable
Easy to use
Heating function
Small size
Comfortable fabric
Long power cable
Cons:
No intensity adjustment
Conclusion:
Considering that this is my first time using a product such as this one, I'm really pleased with how comfortable it was. I would recommend this to anyone looking for a way to treat lower or upper back pain.