I've finally had some time to check out the Naipo 3D-rotating shiatsu massager for neck and shoulders to see what it's all about. As someone who is on the computer a lot, my shoulders and neck are always tense (those late night gaming sessions don't help either). I often don't have the time to get the knots worked out by a professional, so I wanted to try something I could use in the comfort of my home.
First Impressions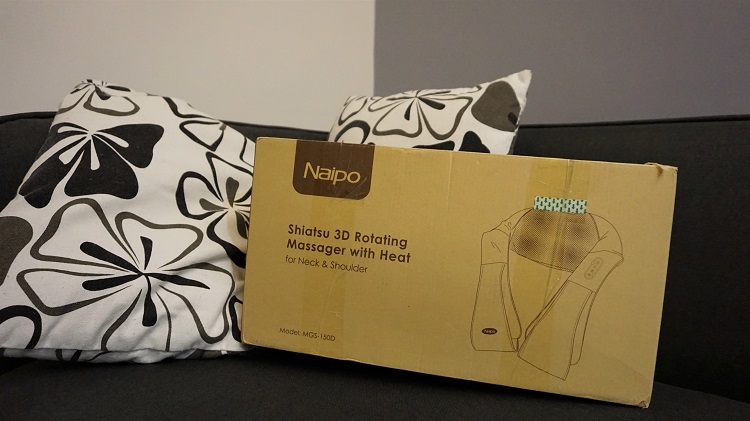 Packing was a lot smaller than I expected. I don't know why, but I had this image of electronic massagers being bulky and heavy. However, Naipo's 3D rotating shiatsu massager weighs less than 2 kilograms, and the box itself was no taller than a toaster. It was easy to open – no tough plastic to saw through and no foam packaging materials to rummage through. Despite not having these packaging materials, the contents were arranged just right so as to prevent the least amount of disruption while shipping.
What's in the Box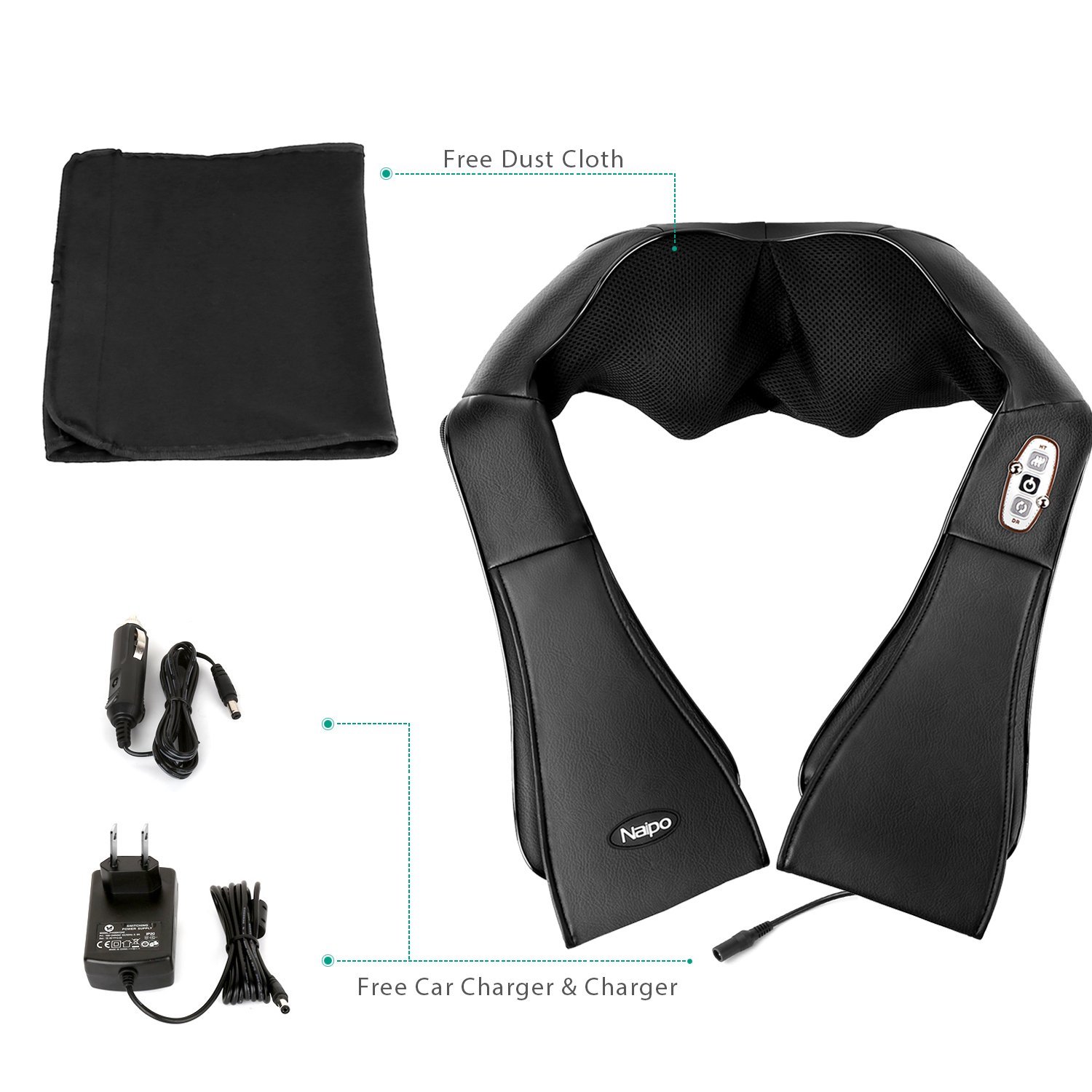 The massager makes up the majority of the contents, with the curved neck rest that houses the 3D-rotating shiatsu mechanisms making up the bulk of its 1.8 kilogram weight. It also comes with a wall socket charger that's detachable and a separate 12 volt adapter for when you want to use it in the car. A washable cleaning cloth and user manual are in the box as well.
Design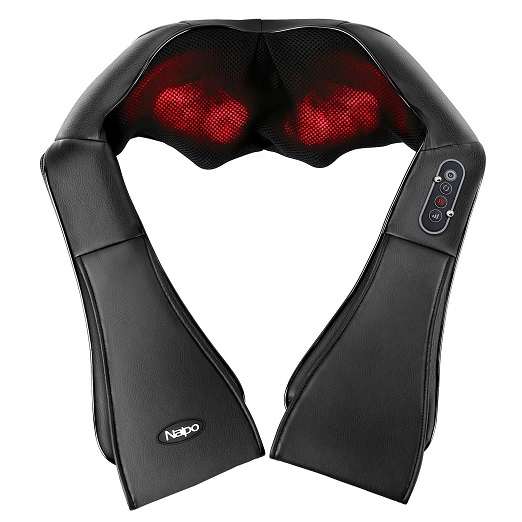 When I first got it out of the box, I was a bit confused by the two straps on either side. Their purpose soon became clear when I actually started using the massager. By setting the headrest area with the shiatsu rollers on the back of my neck, I could rest my arms in the loops of the straps (sort of like an arm sling) which helped to keep my body relaxed while the massager was doing its work. It also keeps the massager in place, especially when sitting on a chair that isn't against the wall.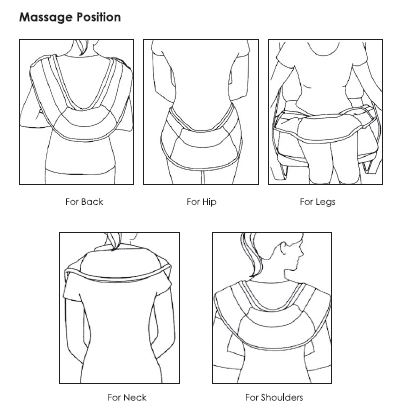 Actually, the massager itself is designed to access multiple areas of the body, not just the neck and upper shoulders. The user manual outlines that, thanks the to the arm straps, it can also be used to massage the hip region, the upper thighs, and the lower back. However, don't feel like the arm straps have to hold you back from multi-tasking. I found that I was able to use the massager on my lower back while sitting in my desk chair and using the computer. I tried it on my legs but personally didn't find much effectiveness there. For me, I found the most use out of massaging my upper back and lower back.
Function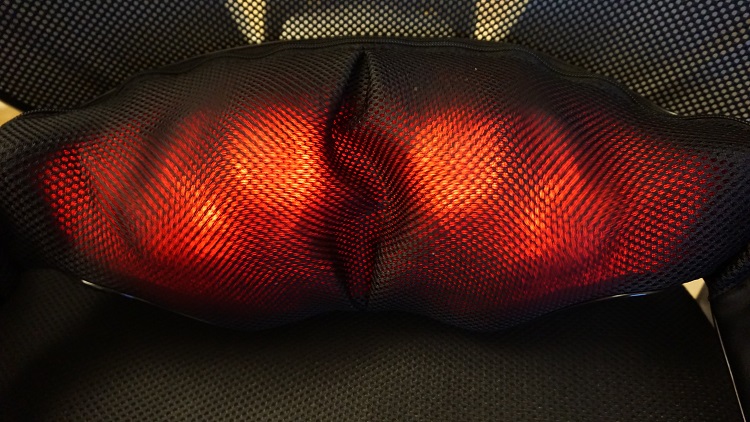 The Naipo 3D-rotating shiatsu massager for neck and shoulders has 8 shiatsu massage nodes that are fitted underneath the mesh of the top u-shaped section. These can move at varying speed levels, accessible via an easy-touch pad on one of the side arm straps. I usually only massaged for around 5-10 minutes at a time, but there is an emergency shutoff after 20 minutes if you leave it on while it's plugged in. The heating function was a nice bonus (and is on by default when you first use the massager), but this can be turned on or off depending on your preference.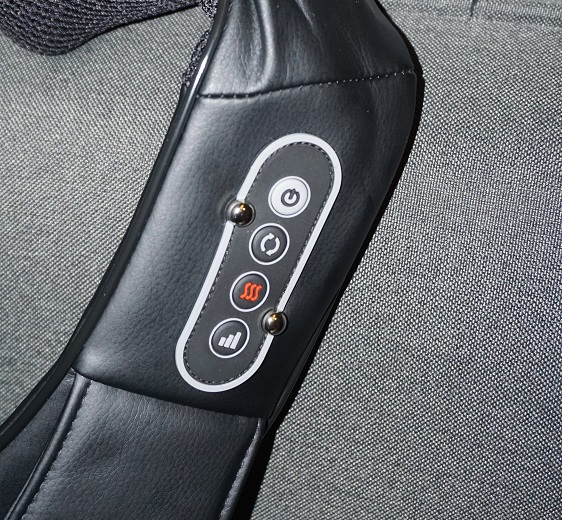 The rolling shiatsu mechanism can turn either clockwise or counter-clockwise and there are three levels of speed accessed via the control pad: slow, medium, and fast. I liked using slow on my neck and fast on my lower back. The charging cord is pretty long so I didn't feel like I was tied to an outlet if I wanted to use it on the couch or at my desk. While using at the desk, I really forgot it was there for a while and just felt really relaxed while I was working (there's a first for everything!)
Pros:
Portable
Easy to Use
Can massage multiple areas
Multiple speeds
Cons:
Could have stronger heat
No USB adapter to save an outlet slot
Conclusion
This is a great, economical solution for someone who wants to get a lot of use out of an electric massager. Because the Naipo 3D rotating shiatsu massager for neck and shoulders can also massage other areas like the lower back and legs, it has multiple practical applications.
I was able to enjoy the heat on my lower back while multitasking, but the heat may not be as strong as what some people might like. Also, having the option for a USB charging function would be great especially if you can't find a free outlet near where you want to sit for your massage. For a quick relaxing fix, this massager will certainly do the job!
You can pick up one for yourself  on Amazon for $49.99 with free shipping by clicking this link.