Comfort and convenience should be Naipo's middle names. Or maybe its hyphenated last name? Their top-selling shoulder massager is more than what the name suggests. Sometimes, you just want someone to soothe the tension from your shoulders. But tension left unchecked can build up in your arms, legs, and lower back. This massager showed and proved a technique meant for total pain relief and relaxation.
After the first use, you won't want to put this massager away. Instead, you may find yourself incorporating it into a daily routine. It's the perfect bedside buddy or living room wine-time companion.
The massager even makes for a great travel buddy! That's right! I am not condoning you use the massager while you are driving. A ticket would be the least of your worries. If you are planning a road trip, this massager will make your pit stops feel like you took a detour to cloud 9.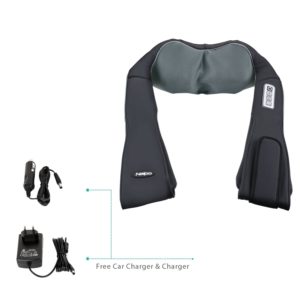 The all black shoulder massager comes with a dust cloth that covers the nodes. After a couple of uses, you can easily clean the cloth by removing it and putting it in the washer machine on a light setting. If you prefer, you can hand wash it as well.
The n-shaped design allows the user to comfortably wear and control the device. The nodes naturally rest on your upper back so there is no additional strain. When you place your arms in their designated loops, you can apply the pressure as you see fit. If the massage is too hard, bring your arms back a little bit. If you want to apply more pressure, simply move your arms forward. This massager's design truly makes it easy to tailor your experience to your preference. No more settling for mediocrity!
What I really loved about this product is its heating function. It may seem like a small thing, but don't underestimate the power of heat! The circular motions already works to loosen the knots and blockages in your body. When you add heat to the process, it brings more blood to the area. The increased blood flow in the specific location speeds up your muscle's healing process.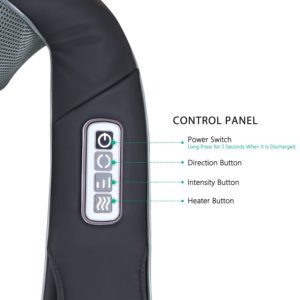 I decided to try Naipo's massager on my lower back area just to see what would happen—and the result was a pleasant surprise! At times, I thought the kneading on my shoulders were too intense. I fixed that with a simple adjustment of my arms, though. When it came my lower back, the pressure was perfect! The kneading was deep enough to tackle my tense muscles. The difference was almost immediate. Not just in feeling. My movement was greatly improved.
On top of the relieved pressure, my range of motion expanded. I like to go to the gym some days after work, so I was excited to see how much this massager loosened up the most troublesome part of my body.
Before you really start using your shoulder massager, try it out on different parts of your body to see how it responds to the movement. Some areas are more sensitive than others, and may require different degrees of pressure, speeds, and temperature. When trying it out, start off with 1 to 2 minutes. Once you have an idea of what your body needs, crank the time up to 10 minutes. If you're going to be using your massager after long days of working or after an intense workout, go ahead and sit with it for 20 minutes. At this point, you may get so comfortable that you may fall sleep! But not to worry. The should massager comes with a 20-minute auto shutoff function.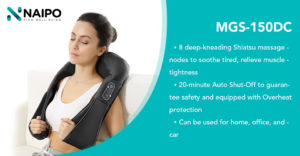 Convenient, relieving, and easy—Naipo's shoulder massager is perfect to use at home, in the office, or on the road. You can treat (or heal) yourself at any time. As long as you have power supply, you're good to go!
If you don't already own this product and you're interested in trying it out, you can pick it up here on Amazon.com