Some days it is my back. Other days it is a stiff calf. Sometimes my neck is sore from working. Other times it is my hamstring from exercise. Thankfully no matter the issue, there are plenty of massage tools available to treat my body woes. However, each massager, no matter how soothing it is, lacks the versatility to treat the next muscle group that starts playing up. Naipo's Handheld Percussion Massager occupies a rare niche and is capable of massaging all those parts of the body and more.
First Impressions
Housed in a slim, stylish box with a pen and ink product illustration, the percussion massager truly has a unique design that immediately catches the eye. The space-grey finish, elongated handle, and large, black massager nodes recall something both unusual, yet highly original. In a world where the same design elements are repeated across products and industries, the seemingly alien looking design represents something fresh and unique. And unlike our other handheld percussion massager, this one comes with two rotating nodes.
In addition to the relatively lightweight massager, the package also comes with a helpful user manual and three different pairs of massager nodes to suit your preference. Two pairs are made of ABS plastic, while the third pair is made of silicon for those after a gentler form of treatment. Please note that one pair is already installed on the massager.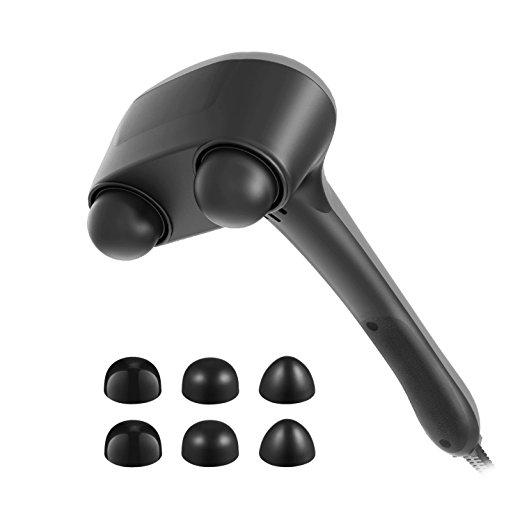 Design and Function
The Naipo Handheld Percussion Massager uses vibrating nodes to massage the neck, back, shoulders, waist, arms, legs, thighs, feet, and more. What stands out about the massager is the versatility of application – it can be used practically everywhere. Not only that, but thanks to the long handle with an anti-slip grip, I did not strain myself trying to reach the tense and tired muscles on my back.
Depending on your preference, you can select high or low intensity mode, as well as turn on a heat function, which boosts blood circulation for a more effective massage. I personally found that high intensity worked best, however, I did opt for low intensity on particularly tired muscles, such as my calves, which were in need of some much needed R&R following a run.
As mentioned, there are three pairs of different massage nodes. I personally could not tell the difference between the 'hard round' and 'hard soft' nodes but I did find that the 'hard sharp' nodes – which are made of ABS plastic – were ideal to really get deep into the tissue. Despite the vibrations, the massager is relatively quiet, measuring less than 60 dB so it can be enjoyed while watching TV or a film.
The massager works with vibrations, which sadly cases one issue. While not a deal breaker, one design flaw is that the entire massager, including the handle, vibrates. This could potentially tire the hands if used on max setting for a long period of time. Luckily the anti-slip grip ensures the massager doesn't slip out of your grasp despite the vibrations.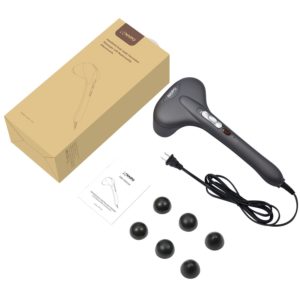 Pros
Versatile design with long handle to massage the back and the rest of the body
Comfortable massager that helps relieve soreness, strains, and fatigue
Two intensities with heat for a tailored massage treatment
Quiet operation for use during films
Cons
The entire massager vibrates when in use which can sometimes tire the hand
Closing Remarks
If you are looking for a versatile, portable handheld massager, then you won't find much on the market as good as Naipo's Handheld Percussion Massager. Not only is it a unique massage tool, it provides the necessary application of strength through the vibrating nodes to treat even the most tense muscles. I'll definitely be using this to help sooth my body next workout.
P.S. If you don't already own this product and you're interested in trying it out, you can pick it up on Amazon.com.