Naipo has taken their massager game into a whole new design space with their throw pillow design. The throw pillow design is an intuitive step forward that combines the utility of a massager with the comfort of a throw pillow. No longer will you have to put your massager away when you're done using it. Just put it on your couch and it doubles as a pillow you can use for lazy days!
One of the biggest gripes I've always had with massagers is that they can sometimes be difficult to store when I'm not using them. They're immensely helpful but they're niche. If you're not getting a massage then it's usually best to put it away, but Naipo has fixed this problem—and fixed it stylishly!
This massager is a pleasant beige color that doesn't assault the eyes and it has a simple pillow shape so that it doesn't throw off the energy or style of the room. Despite all of this, it still has all the functions of both a pillow and a massager.
First Impressions:
Like all Naipo products, it was expertly packed and all the components were included and easy to find. I plugged it up for a few hours while I was out at work and used it after I got home.
With most massagers, I like to start on my back and then work from there. So I did 20 minutes on my lower back and then 10 minutes each on my sides. One thing that I found to be totally unique to this pillow massager is that you can use it to massage hard to address areas such as your sides and thighs. Its square shape also means you can wedge it against your back perfectly or tuck it up against your side and hold it in place with your arm as it kneads out knots.
Design & Function:
This throw pillow massager's design and functions are simple and sweet. It has a simple square-shaped design with a comfortable, stylish fabric cover that allows it to blend in perfectly with your interior design style. It has a simple power switch on the bottom left-hand corner. This also doubles as the control for the heating function. The heating function is comfortable and never feels overwhelming.
A full charge takes about 5 hours, but you can get at least 6 full uses (1.5) hours out of it, so you could ideally hit a bunch of problem areas in one sitting and then let it charge again.
I would recommend that you use this massager while lying down. Some of the best areas to use it on are your neck, back, thighs and calves. I also suggest that you try it on your sides near your underarm or even on your upper back.
The other awesome thing about this massager is that you can also just use it as a simple pillow when you're done. It's great for when you just want to lay down on your bed and read a book or watch some TV. Sometimes is so effective for this that you forget it's a massager too.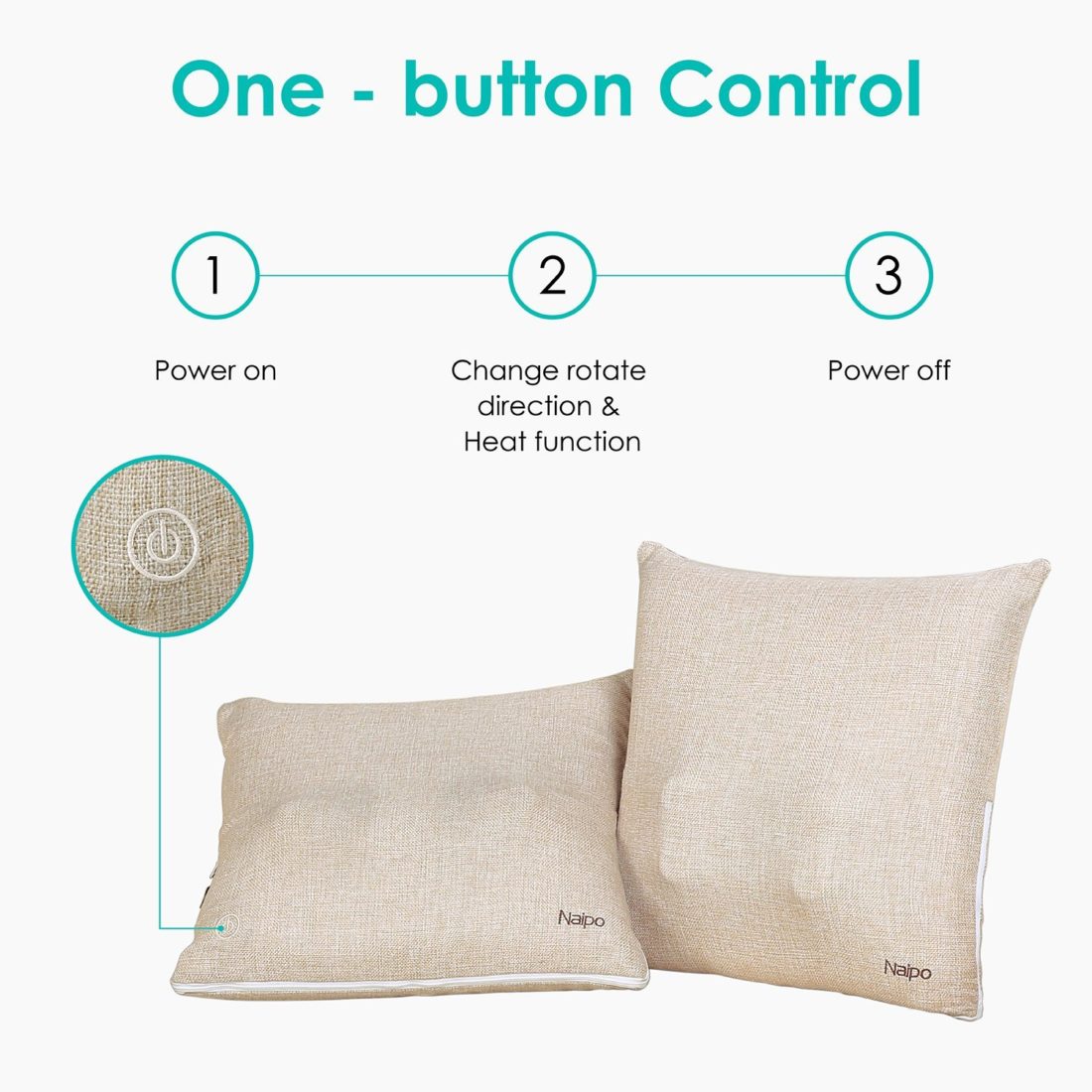 Pros:
Great shape and style

Convenient design

Portable

Comfortable to rest on
Heating function
Cons:
The wires on the back of it can be felt through the fabric if you're resting sometimes
hard massage both sides of the back evenly sometimes
The material can be uncomfortable until you figure out how to make the massager fit your body
This throw pillow massager is a bit of a jack of all trades. You could throw this in your car and take it with your traveling, you can use it at home on your couch or bed or you can just flip it over and use it as a pillow while your rest. It's incredibly useful despite it's simple and compact design. Overall, I'd say this is one of the strongest massagers Naipo has right now given the sheer number of things you can do with it!
P. S. If you don't already own this product and you're interested in trying it out, you can pick it up here on Amazon.com.