Life would just be easier if we could simply jet ourselves away to some island for a week. But, as most of us know, that's not really how life works. Vacations can be tough to figure out. When can I go? Where should I go? How long can I stay for? Before you know it, your vacation has somehow turned itself into this stressful event that can only happen if everything magically falls into place. Fortunately, you have alternatives.
First, let's think about why we go on vacation? Some people might say, it's somewhere new I've never been before. Okay… It's my time to unwind and relax. Sure… I want some adventure in my life. Perfect! You can do all those things, plus much more, on your own staycation! A staycation is your opportunity to find happiness in the comfort of your own home and/or city. Just because you live there doesn't mean you can't discover something new and exciting about it.
There are essentially two types of stayacations you can take – either you're interested in exploring something new or you're focused solely on relaxing. So, here are some useful ideas to get you started on whichever staycation you choose.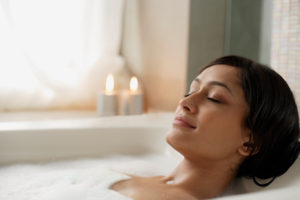 Relaxation Staycation
Vacations are mostly about getting away from the hustle and bustle of our normal, everyday lives. Your staycation can do the same for you. It just takes a little imagination and indulgence to whisk yourself away to somewhere quiet and intimate.
Unplug Yourself – Nowadays, our lives are full of noises – phones beeping, children crying, televisions blaring unsettling news. Well, it's time to shut them all down and make time for yourself. Just unplug from everything and relax. Pour a soothing bath with essential oils and candles, or simply read a book you've been wanting to read. Even if it's only for an hour, you can make the simplest of actions into a staycation worth having.
Bring the Resort Home – Believe it or not, you can still be pampered at home. Simply register online for an in-home massage from certified masseuses in your area. They bring the spa to you by providing professional, courteous massages right in your own home. We even wrote here on how to create your own spa at home! Or, forget the masseuse altogether and purchase a new percussion massager for yourself. The point is, enjoy the little things while you're on your staycation. Like, ordering delivery from your favorite restaurant while you watch movies in bed. Just make sure you do it because it makes you happy.
Exploration Staycation
Not all staycations need to take place at home. The city or town where you live has plenty of options for you! Forget what you already know and focus on what you don't. Maybe there's a tourist spot that you haven't visited because, well, it's touristy. You just need to think outside the box.
Tour a Local Brewery – Nearly all cities have at least one brewery willing to give you a tour of their facilities. You'll actually find that the process is quite fascinating and involves more than you think. Plus, they usually have tasty food options and delicious beer on tap.
Catch a Live Sporting Event – You can always watch sports on TV, but how many people actually watch the game live? Well, your staycation is the perfect opportunity to experience your favorite sport in person! Most cities will also have minor league teams which are usually less expensive and easier to watch.
Create a Scavenger Hunt – Get inspired and create a scavenger hunt with friends! It may take some time to plan, but you'll end up exploring more of your city than you ever thought possible. Not to mention, you'll have fun with friends in the process. Just remember to start your scavenger hunt with nearby places and expand from there.