First Impressions:
So, I picked up Naipo's Shiatsu 3D rotating massager and had an overall good experience with it. Its innovative design makes it very easy to carry around and eliminate the stress of keeping it plugged to the power adapter. I found great its versatility, as it makes possible to massage deeply not only shoulders and neck but many other parts of the body. Here are on my thoughts on the design and function.
Design:
The packaging was great as always and the power adaptor and car adapter were packed securely and easy to find. The instruction booklet is simple and straight forward and only had useful information, no advertising or any other distractions.
This massager is slightly bigger than I expected but I think this is to accommodate the large number of places you can massage using it. You can massage your neck, shoulders, back, waist, abdomen and even your thighs with it. I'm sure with a little bit of creativity you could even use it to massage your lats as well!
The two arms of the massager are great for securing the massager to yourself, especially if you're using it on your neck or upper back. One of the arms has a set of buttons that allows you to control the massager. The buttons are flat made of plastic to ensure that they don't chip or get caught on furniture or other things. It was a very good design choice on the part of Naipo.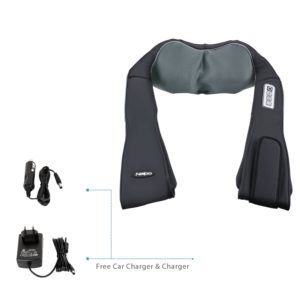 Function:
This massager allows you change to the massage direction (clock-wise or counter clock-wise) and speed of the kneading legs. I find amazing the option that allows to heat up the massager so you can get added relief if an area is especially problematic (it really does feel a lot better!).
My absolute favourite thing about this massager is that you can use it for so many different body parts. I sometimes get tightness in my thighs after sitting and working for a while and this massager can hit this troublesome area for me. It fits comfortably on your back and you can use the arm straps to adjust the tightness and find what's right for you. Like I mentioned earlier, you can use it on your neck, shoulders, back, waist, abs, thighs and maybe even your sides. It is truly a multi-purpose massaging tool.
The timing on this massager is very convenient. I sometimes think massages can go on for too long, but the default 15 minutes is just enough time to keep me from getting impatient but also enough time to knead out any tight spots I might have.
The kneading legs move in a circular pattern that I find to be very relaxing. It feels wonderful on the upper back and neck, just like a massage from an experienced therapist.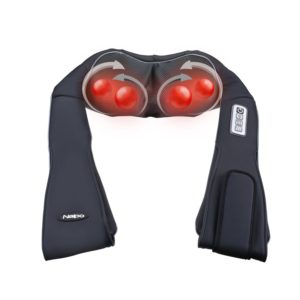 Pros:
Extremely versatile
Heating function
Easy to follow directions
It is portable
Cons:
A bit large
No temperature controls
Conclusion
Overall, I think this is a great tool for massage enthusiasts who are looking to get a massaging tool that they can get a lot of mileage out of. The heating system and the cordless design are big added values.