The red carpet looks were not the only amazing thing about the Grammy Awards this year, one of the most anticipated parts of the Grammys is the lavish contents of the VIP goodie bags, packed with treats, products and experiences worth over US$30,000! And Naipo, is a proud part of it with the exclusive and relaxing Breo Eye Massager.
So, what's inside the Grammys Gift Bag?! Let's take a look at this luxurious gift pack for the VIPs:
A bag full of beauty gifts, with many important brands in the personal care sector: Inception of Beauty, Go Beyond Here, Crème of Nature, The Danish Way book, perfumier Art Meets Art, Salt & Stone Soap Company…. and many more gifts, including Naipo's Eye Massager of course.
So, let's take a deeper look at how and why Naipo has decided to sponsor such a great event:
How did Naipo succeed to place such an important cooperation with the Grammy Awards event? 
The quick growth of our brand since the year 2016, has been targeted by Grammys Award organisers, noticing Naipo developing the best massage and relaxation products, aiming to deliver well-being and value around the world. We took at once this occasion, in order to spread one of our best products around not only the great artists but to even more people around the world.
Is Naipo planning to sponsor more events like this?
Definitely yes, we are! We are planning to give a lot of free products, we just love to share our best massagers with you! By the way, you can check our Valentine's Giveaway (valid until February 11th, 2018) to get the chance to win one of our 2 best selling Back & Neck Massagers!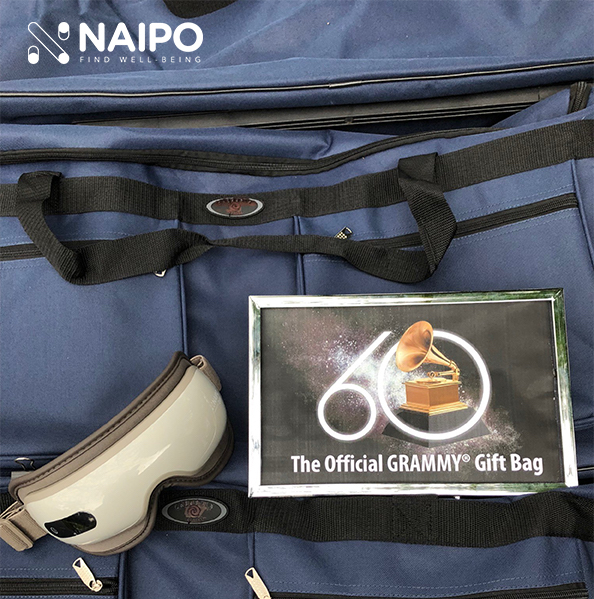 Why the Breo Eye Massager?
We believe that our Eye Massager, made in cooperation with the design company Breo, is a great product to fit into the official Grammy Gift Bag.  It is lightweighted, small, practical, wireless, perfect for everbody's wellness. Featuring a relaxing massage by air compression, heat therapy that helps to release tension, and even high quality stereophonic natural sounds that help to get a better sleep.
Amazing, so how can I get the Breo Eye Massager?
It's a lovely product, so we have thought, why to not give a special discount to the readers of this blog post? Click here to purchase the Eye Massager on Amazon.com and enjoy an exclusive 20$ discount by using the coupon code W5865QZD at checkout!