There is nothing better than being able to enjoy the time outdoors in summer. From throwing the best water balloon fight to playing sport and doing exercise to stay fit and refreshed, there are plenty of opportunities to get outside this summer. One suggestion, which is rapidly gaining popularity, is the backyard theatre. Here's what you can do to watch silver screen classics from home.
The Projector
What you need is exactly what a real cinema uses – a projector. When purchasing or hiring a projector you need to be mindful of two important things: brightness and definition. Since you'll be screening movies in the dark, a bright projector will ensure everyone can clearly see the images on the screen, whereas better definition means everyone is seeing high quality images. We recommend a projector that can comfortably project films in high definition 1080p.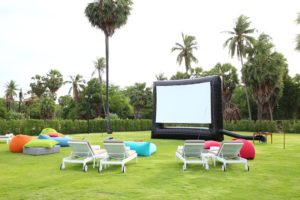 The Screen
You cannot have the projector playing the filming into the stars above. You need something that can display the images – a screen. When purchasing a screen, ensure that it is white and check that it has a low gain. Most home theatre screens have a low gain that range from 1.0 – 1.3. Alternatively, and what we think is much cooler, is to hang a large sheet across a washing line or the side of the house. Just make sure there is little wind that night.
A Sound System
For the ultimate cinema experience, you are going to need a sound system that really kicks! A weaker sound system is not able to provide enough sound to command attention or drown out background noises. Thankfully most home stereo systems can be used saving you the trouble of buying a new audio setup.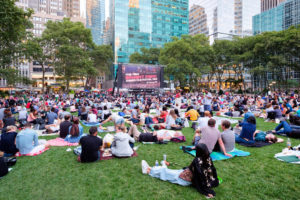 Films to Watch
For the types of films to play you cannot go wrong with the big three: family, comedy, and horror. But remember to choose films based on your audience. If you're going to have families present, we don't recommend the latest R-rated horror film (unless you're a particularly scary person yourself!). On the other hand, if you have a group of similar aged adults, then playing that latest serial killer flick is socially acceptable.
You can even create a theme night based on a film series. A Harry Potter film night means everyone dressing up as wizards and drinking 'butterbeer'.  A Star Wars film night will have everyone arriving as Jedi. One of the most popular and fun films to screen is the Rocky Horror Picture Show – a film that always gets audiences singing and dancing along.
Food
Just like going to the actual cinemas, you need some great tasting food for everyone to eat. The number one recommendation is buttered popcorn! You can easily make it yourself and it suits any film. Other food and drink recommendations include pizza, ice-creams, sodas, chocolates, milkshakes, nachos, hot-dogs, candy, and… fruits (no excuse not to be healthy).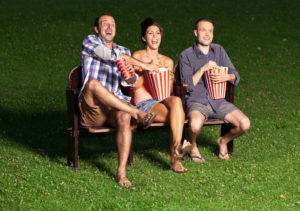 Comfort and Ambience
It might be hard to mimic a cinema seat but the good news is that you don't have to – you have something better. Actually you have many things that are better. From couches and deck chairs, to bean bags and picnic rugs, you can sit on what you want while watching the films you want.
To add more ambience to the night, you can add essential oil aromatherapy candles which can heighten the mood, relieve anxiety, refresh and invigorate, and can work as an aphrodisiac if you are in the mood for a private couples movie experience!
Have you tried making a garden cinema? What tips do you have?