There is nothing better than coming home to a cooked meal paired with the right beverage. No matter what your alcohol preference is, many will agree that some drinks taste better with different foods.
Wine is no exception to this.
Each bottle boasts its own character. As we become more familiar with different varieties, it becomes easier to distinguish and appreciate the subtleties they magnify. The alcohol content is where some of the fun lies, of course. But the rest can be found in the wine's play on the palette.
The crushed grapes' light to robust flavors are stimulating on their own. Mixed with a wide array of fruits, nuts, and spices, wine presents the perfect opportunity to discover how to blend and balance our favorite tastes.
Here are a few pairing rules to make the most of your meal:
Feeling Earthy tonight? Try it with Pinot Noir
Recipes made with ingredients like mushrooms and truffles taste great with reds like Pinot Noir and Dolcetto, which are light-bodied but full of savory depth.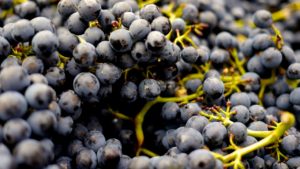 For Fatty Fish, Go with Chardonnay
Silky whites—for instance, Chardonnays from California, Chile or Australia—are delicious with fish like salmon, or any kind of seafood in a lush sauce.
Red Meat and Cabernet Sauvignon, A Perfect Pair
California Cabernet, Bordeaux and Bordeaux-style blends are terrific with steaks or chops—like lamb chops with frizzled herbs. The firm tannins in these wines refresh the palate after each bite of meat.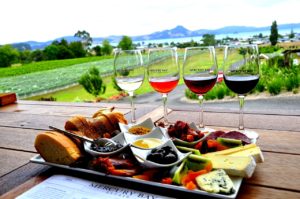 Tart Dishes Stay Alive with Sauvignon Blanc
Tangy foods—like scallops with grapefruit-onion salad—won't overwhelm zippy wines like Sauvignon Blanc, Vinho Verde from Portugal and Verdejo from Spain.
Keep Cheesy Dishes Rich with a Dry Rosé
Some cheeses go better with white wine, some with red; yet almost all pair well with dry rosé, which has the acidity of white wine and the fruit character of red.
 Sweet-Spicy Barbecue Sauces Won't Drown a Malbec
Malbec, Shiraz and Côtes-du-Rhône are big and bold enough to drink with foods brushed with heavily spiced barbecue sauces.
 Moscato d'Asti Stays True to Fruit
Moderately sweet sparkling wines such as Moscato d'Asti, demi-sec Champagne and Asti Spumante help emphasize the fruit in the dessert, rather than the sugar.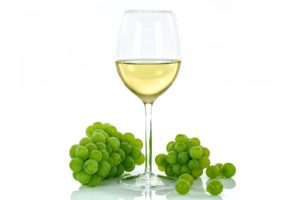 Eating and drinking (in general) are essential components of our health. They also represent pleasures that can only be experienced after their mundane ingredients are prepped and consumed with great care.  Don't settle for a meal just to make it disappear. Indulge in one that sends your taste buds into a frenzy.